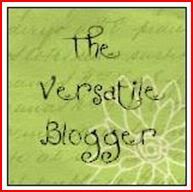 Rules:
1. Write a post linking back to the person who gave you the award.
2. Share 7 random facts about yourself.
3. Award 5-10 other bloggers
4. Contact these bloggers and let them know!
My 7 Random Facts:
1. My favorite color is coral...thus it HAS to be one of my wedding colors :)
2. I love to sit on my front patio and just listen to the birds and other animals and enjoy the fresh air.
4. After living in our new home for a year and a half, we will finally be getting a dining room table soon. Yes, our kitchen/dining area has been extremely bare for this long, haha!
5. I turned 25 a month ago, but it seems unreal that I'm in my mid 20s! I still feel 19...and apparently still look it too...
6. When I was a child, most of my baby teeth came out either while I was eating an apple or a slice of pizza at school!
7. I wear my seat belt even if I'm driving through the parking lot...guess it's a good habit to have, huh?!
I award the

Versatile Blogger Award

to these awesome blogs:
Now, if you haven't checked them out yet, then what are you waiting for? :)